Asian Meatballs and Greens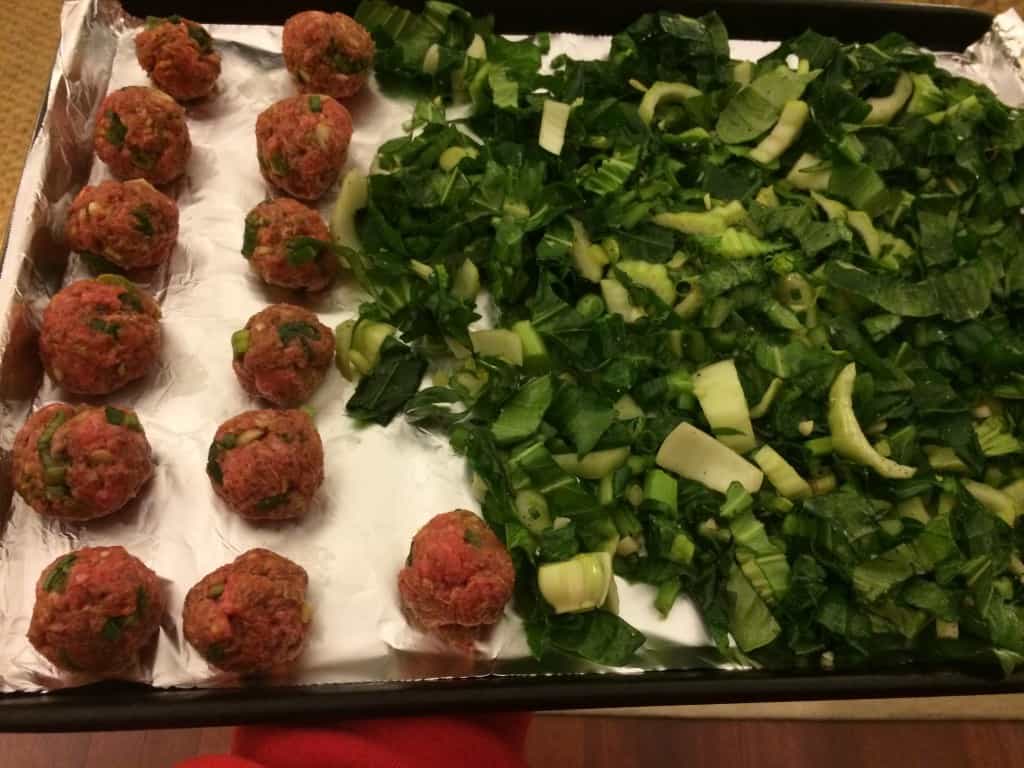 3 cloves garlic, minced
¼ inch ginger root, minced
1 lime, halved
4 scallions, chopped
6 oz. baby bok choy
6 oz chinese broccoli (use broccolini, or even broccoli if you can't find chinese broccoli)
12 oz. ground beef (or turkey, or chicken, or bison)
2 tablespoons soy sauce
1 teaspooon gochujang sauce, divided (substitute a wasabi/water paste if you don't have gochujang)
1 tablespoon sesame oil
¼ cup all-natural peanut butter
1 teaspoon honey
salt
pepper
Preheat oven to 450.
In a large bowl, combine meat with 1 tablespoon soy sauce, ½ of gochujang sauce, ½ of garlic, ½ of ginger, and ½ of chopped scallions. Season with salt and pepper. Using your hands, gently mix well and form into 10-12 meatballs. Arrange in a single layer on ⅓ of a foil-lined baking sheet.
Season greens: Chop bok choy and broccoli into bite-sized pieces. Toss in a large bowl with sesame oil, remaining garlic, ginger, and scallions. Season with a little salt and pepper. Arrange in a single layer on remaining ⅔ of foil-lined baking sheet.
Roast meatballs and greens in oven until meatballs are browned and greens are tender and starting to crips. (About 12 minutes)
Make Peanut Sauce: Whisk together peanut butter, honey, juice of 1 lime, remaining soy sauce, and as much of the remaining gochujang sauce as you want (you can substitute wasabi here). Slowly whisk in 2-4 tablespoons of HOT water (until you get desired consistency). Add salt and pepper to taste.
Serve meatballs atop the greens with peanut sauce drizzled/poured (depending on your affinity for it) on top of all of it.
Recipe by
The Healthy Southerner
at http://thehealthysoutherner.com/asian-meatballs-and-greens/